Greetings! Thus far, my weekend off has consisted of much busy work. Yesterday I worked in our church kitchen for the women's Christmas Tea/Luncheon, which was quite rapidly paced. However, working with other believers is always enriching; I don't feel belittled, I'm always doing my best, and doing it to the fullest.
With temperature below zero, we drove around Minneapolis. I spotted one of these signs and thought "What? A tea
warehouse?!
" Entitled
Mrs. Kelly's Tea
, it is a shop specializing in a bevy of tea varieties.
Seriously: On a day with freezing temperatures, what better for the Dutch than a sampling of much tea??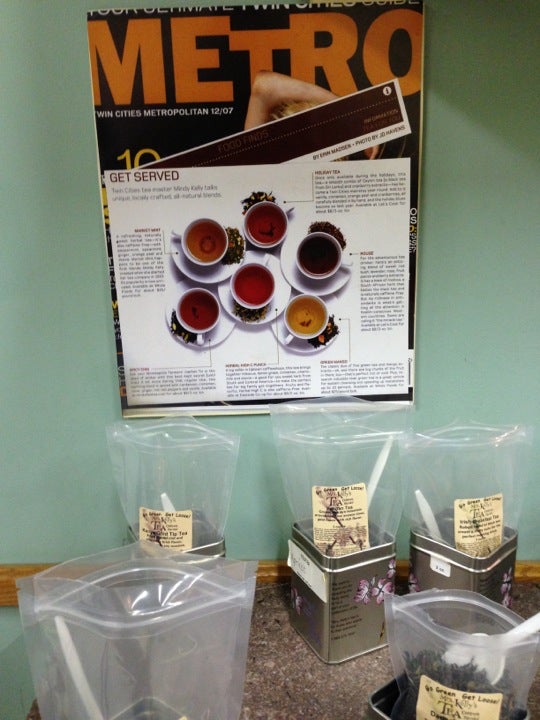 After some quick dishes and a call, my lovely cousin came to explore the tea house with us.
And oh what a delightful surprise we found; teas upon teas upon teas. So taste away we did.
I tried a Ginger Peach (pleasant); a "Russian Smoky" (drinkable but reeked of tobacco), and a cherry almond. I have yet to taste my assorted remaining samples. It's like a little piece of random excitement. Outings like those are such fun, the spontaneous, the unplanned, the adventurous. Maybe to say you've done it, maybe to just have fun, or perhaps to enjoy a certain something with a certain someone. Because to me, God's given us a life to live to the fullest, and outings like these with people we love can be likened to embellishments to our scrapbooks.
Well enough of my mused sentimentalism. Blessings on your Sunday!
Note: I did not have my camera, and this resulted in no original photos. Therefore...all links below each photo give credit to those original photos. Thank you!